LBA Innovation Tour 2018 – CEFLA LIVE / BIESSE INSIDE
LBA is pleased to announce its simultaneous presence at 2 international events during the usual Innovation Tour 2018, that are a worldwide point of reference in the field of treatment and surface finishing.
CEFLA LIVE
this year at its 10th edition, it's the exclusive international event that lets participants get a first-hand look at cutting-edge technology for the finishing and decoration of materials of every type and shape awith a strong focus on the latest industry trends, innovations and technological developments.

17 – 19 October 2019
Imola, Cefla LAB
Via Bicocca 14/C
40026  Imola (BO) Italy
BIESSE INSIDE – WOOD
where you will have the possibility to discover the customised automated solutions that offer professionals working with wood a host of opportunities, reducing production times, creating efficiency, cutting costs and more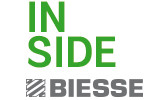 17 – 24 October 2018
Pesaro, BIESSE Business center
Via Della Meccanica
61122 Pesaro Italy
BIESSE INSIDE – ADVANCED MATERIALS
where you will be accompanied in the digitalisation of your work and the automation of your production. You'll find pragmatic solutions for creating automated and interconnected production processes.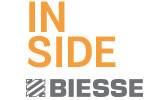 25 – 27 October 2018
Pesaro, BIESSE Business center
Via Della Meccanica
61122 Pesaro Italy
During the events, we will have the pleasure to introduce you to our manifesto for a new finishing culture diffusion and, in worldwide premiere, to the the second issue of our magazine #Grana.

FOCUS ON: Your best way to finish!

Come and touch with hand our sanding manifesto, a set of values, ideas and beliefs that every day we pursue with passion and determination for a new finishing culture diffusion, aware that the correct use of an abrasive is of fundamental importance in achieving the desired surface result.
 FOCUS ON: #Grana

Come and discover in worldwide premiere the second issue of the LBA magazine, that has the "Advanced Materials" as a Cover Story.
#Grana is an updating platform on the topical issues and experimentations related to the world of surface finishing through the use of coated abrasives.
Categories: Events, What's New?